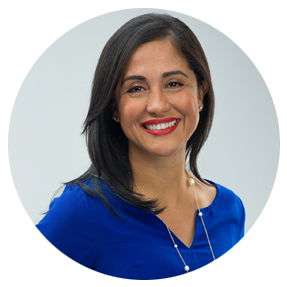 Dr. Nancy Vertel
DDS, Dip. Pediatric Dent, MSc, FRCD (C) Certified Specialist in Pediatric Dentistry
Dr. Nancy Vertel is a certified specialist in pediatric dentistry. She holds a Doctor of Dental Surgery degree and a Master of Science in Craniofacial Science from the University of British Columbia. She also instructs part-time at the university's faculty of dentistry, is on staff at BC Children's Hospital and has hospital privileges at both private and public hospital facilities.
As both a certified pediatric dentist and a mother, Dr. Nancy Vertel understands that any health problem affecting a child has the potential to impact the entire family. In an effort to provide a more holistic approach to dental care, she established Half Moon Dentistry for Children in Surrey, BC.
Dr. Nancy Vertel is fluent in both English and Spanish. In her spare time, she gives back to the community through her work with the Special Olympics BC – Special Smiles program.
Continuing Education
AADMD Annual General Meeting (Princeton, NJ June 2014)
Contemporary Sedation Techniques for the Pediatric Patient (Seattle, 2013)
Healthy Athletes-Healthy Smiles
AADMD Annual General Meeting (Mesa, April 2013)
AAPD Comprehensive Review Course (Denver, 2012)
AAPD (San Diego, 2012)
CAPD (Edmonton, 2011)
AAPD Annual Meeting (New York, 2011)
Hypnosis of Children and Teens Workshop (CSCH – 2011)
Health & Wellbeing in Children, Youth, and Adults with Developmental Disabilities: Autism, Intellectual Disabilities & Neurodevelopmental Disorders (UBC – 2010)
Introduction to Internal Medicine Series: Immunology, Psychiatry, Neurology, Oncology & Lab Studies (University of Washington, Continuing Dental Education – 2009)
Professional Memberships
Fellow of the Royal College of Dentists of Canada
American Academy of Developmental Medicine and Dentistry
College of Dental Surgeons of BC
American Academy of Pediatric Dentistry
Canadian Academy of Pediatric Dentistry
Dental Specialist Society of British Columbia

Dr. Kourosh Khodarahmi
DDS
Dr.Kourosh and his family moved from Iran at a very young age and grew up in Kelowna. He moved to Vancouver to complete a Bachelor's Degree at UBC focusing on advanced organic chemistry and a Master's Degree in Neuroscience. After completing his original research, He started a career in dentistry. Having experienced childhood decay himself, he found treating children with respect and understanding goes a long way to help guide them through what may be one of the most difficult right of passages for any person – going to the dentist. He believes that children can be more reasonable than adults if they are approached in the right way. This is why he was chosen to work with Vancouver Coastal Public Health Children's Dental Program right out of school. As the Supervising Dentist for the program and as the Clinical Assistant Professor at UBC, he continues to help public policy around children's oral health.
Dr. Kourosh has three children and he loves spending time with his family. He is always up for a game of squash, conversations about new recipe ideas, and to compare notes on the longest walk you've ever had. He looks forward to getting to know the families of Half Moon Dentistry and how he can serve their needs.
Dr. Justin Shyu
DDS, Certified Specialist in Pediatric Dentistry
Dr. Justin Shyu is a certified specialist in pediatric dentistry. Originally from California, he completed his Doctor of Dental Surgery degree at New York University. Afterwards, he completed a general practice residency at NYU Langone – Brooklyn, where he was awarded Co-Resident of the Year. His passion for treating and educating children and families led him to complete his pediatric specialty training at Montefiore Medical Center in the Bronx. Dr. Justin is also passionate about providing care for those who can't regularly access it, which has led him on global outreach programs abroad.
A west coaster at heart, Dr. Justin is excited to be in BC and become a part of the community. In his spare time, he enjoys spending time with his family. You'll find him outside in nature, watching American football, reading comics, and listening to and playing music. Dr. Justin is also fluent in English and Mandarin Chinese.
Dr. Ava
DDS, Certified Specialist in Pediatric Dentistry
After graduating from dental school in Iran in 2009 I worked as a General Dentist for about 3 years and realized that I loved being a dentist and at the same time really enjoyed working with children. So I decided to combine both my passions, in 2012 I started a 3-year graduate program to become a Certified Specialist in Pediatrics to be able to focus on dentistry for children and adolescents as an expert in the field. As a child I had a hard time going to the dentist so this gave me the opportunity to make dentistry a good and fun experience for children which happens to be the most rewarding part of my job! After graduating in 2015 I practiced as a Pediatric Dentist for 4 years.
I immigrated to Canada and wrote my exams and became licensed as a dentist to be able to continue my passion for practicing dentistry. I also completed DSATP program in pediatric dentistry at UBC and got certified as a pediatric dentist in Canada.
I am passionate about working with children and adolescents and highly value my patients trust in me. My goal as a dentist is to promote my patients
dental health in a calm and relaxed environment and making the visit to the dentist a good experience for children. When I'm not working I enjoy spending time in the beautiful nature of British Columbia hiking and exploring with my husband.