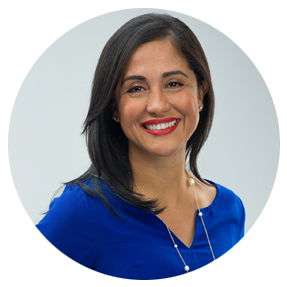 DDS, Dip. Pediatric Dent, MSc, FRCD (C) Certified Specialist in Pediatric Dentistry
Dr. Nancy Vertel is a certified specialist in pediatric dentistry. She holds a Doctor of Dental Surgery degree and a Master of Science in Craniofacial Science from the University of British Columbia. She also instructs part-time at the university's faculty of dentistry, is on staff at BC Children's Hospital and has hospital privileges at both private and public hospital facilities.
As both a certified pediatric dentist and a mother, Dr. Nancy Vertel understands that any health problem affecting a child has the potential to impact the entire family. In an effort to provide a more holistic approach to dental care, she established Half Moon Dentistry for Children in Surrey, BC.
Dr. Nancy Vertel is fluent in both English and Spanish. In her spare time, she gives back to the community through her work with the Special Olympics BC – Special Smiles program.
Continuing Education
AADMD Annual General Meeting (Princeton, NJ June 2014)
Contemporary Sedation Techniques for the Pediatric Patient (Seattle, 2013)
Healthy Athletes-Healthy Smiles
AADMD Annual General Meeting (Mesa, April 2013)
AAPD Comprehensive Review Course (Denver, 2012)
AAPD (San Diego, 2012)
CAPD (Edmonton, 2011)
AAPD Annual Meeting (New York, 2011)
Hypnosis of Children and Teens Workshop (CSCH – 2011)
Health & Wellbeing in Children, Youth, and Adults with Developmental Disabilities: Autism, Intellectual Disabilities & Neurodevelopmental Disorders (UBC – 2010)
Introduction to Internal Medicine Series: Immunology, Psychiatry, Neurology, Oncology & Lab Studies (University of Washington, Continuing Dental Education – 2009)
Professional Memberships
Fellow of the Royal College of Dentists of Canada
American Academy of Developmental Medicine and Dentistry
College of Dental Surgeons of BC
American Academy of Pediatric Dentistry
Canadian Academy of Pediatric Dentistry
Dental Specialist Society of British Columbia
Save
Save
Save
Save
Save
Save
Save