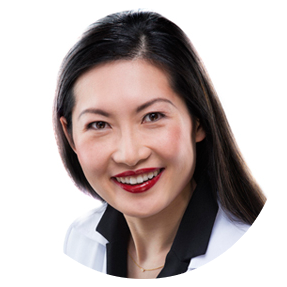 DDS, Certified Specialist – Pediatric Dentistry
Dr. Chan believes a positive dental experience can have a life-long impact on the overall well-being of a child, as well as to their entire family. Because of this belief, she strives to make each visit engaging and fun as she wants both her patients and their families to develop positive attitudes towards caring for their smiles.
"I am committed to provide each child with the best experience and tailored care to their specific needs. I always have their best interests at heart."
—Dr. Chan
Dr. Chan grew up in Suriname, South America and moved to Canada when she was a teenager. She speaks fluent Cantonese and Mandarin. When she is not in the office, Dr. Chan enjoys spending time with her family, cooking and travelling.
Educational Background
Dr. Chan holds a Bachelor of Medical Science and a Doctor of Dental Surgery degree from the University of Western Ontario. Dr. Chan also attended the University of Manitoba and earned a Master of Dentistry and a Specialty Certificate in Pediatric Dentistry.
Through continuing education courses in Pediatric Dentistry, Dr. Chan stays current on techniques and advancements in dentistry materials and technology. Most recently, she completed the Update in Pediatric Medicine held in Boston by the American Academy of Pediatric Dentistry.
Professional Memberships
Canadian Academy of Pediatric Dentistry
British Columbia Society of Pediatric Dentistry
College of Dental Surgeons of British Columbia
American Academy of Pediatric Dentistry
College of Dental Surgeons of Saskatchewan
Diplomate of the American Board of Pediatric Dentistry